Each year the HDAE Arts & Culture committee works on a variety of projects. Some are ongoing projects, some may be suggested by students, and some may be a special request generated due to a new building being added to our portfolio. Projects run the gamut from outdoor banners to art shows, to wall graphics, to hanging images, to succulent gardens. We try to give each and every request its due, no matter how big or small, and find a way to make it happen. Projects are often developed in conjunction with the HDAE Marketing & Communications Team (MarCom).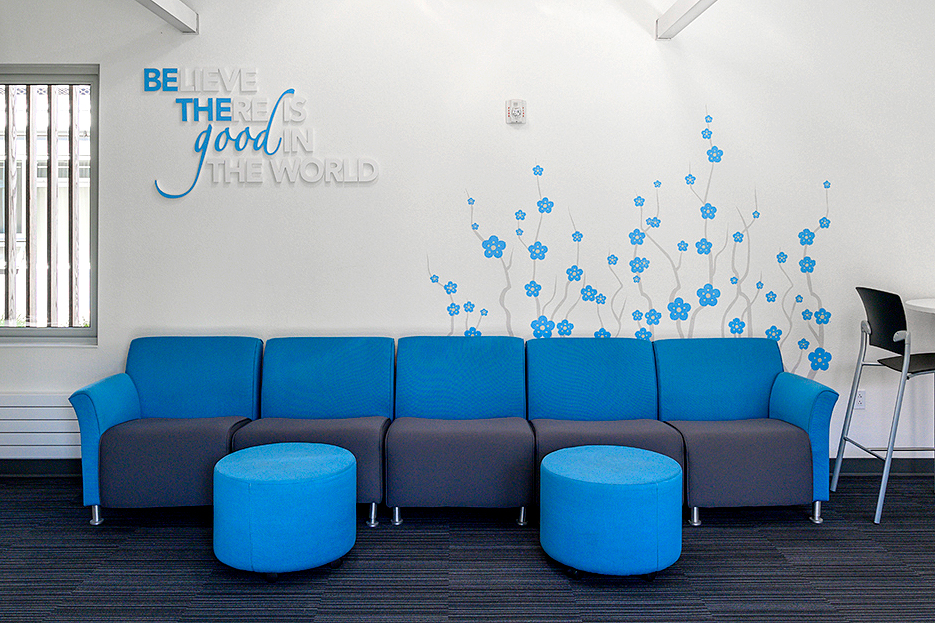 San Joaquin Villages Study Rooms
As part of the completion of UCSB's newest apartment complex, the MarCom team was asked to add graphics to three study rooms and three recreation rooms. They partnered with Gaucho Athletics for the recreation rooms, and selected a theme of nature and subtlety for the study rooms. Working with heavily textured walls, it took a while to work out a successful graphic application. The bamboo, jungle, and flower study rooms were designed in a gray and blue theme to go with the inherent color scheme. The project was awarded first place in the specialty category by the Association of College & University Housing Officers - International during their annual marketing awards.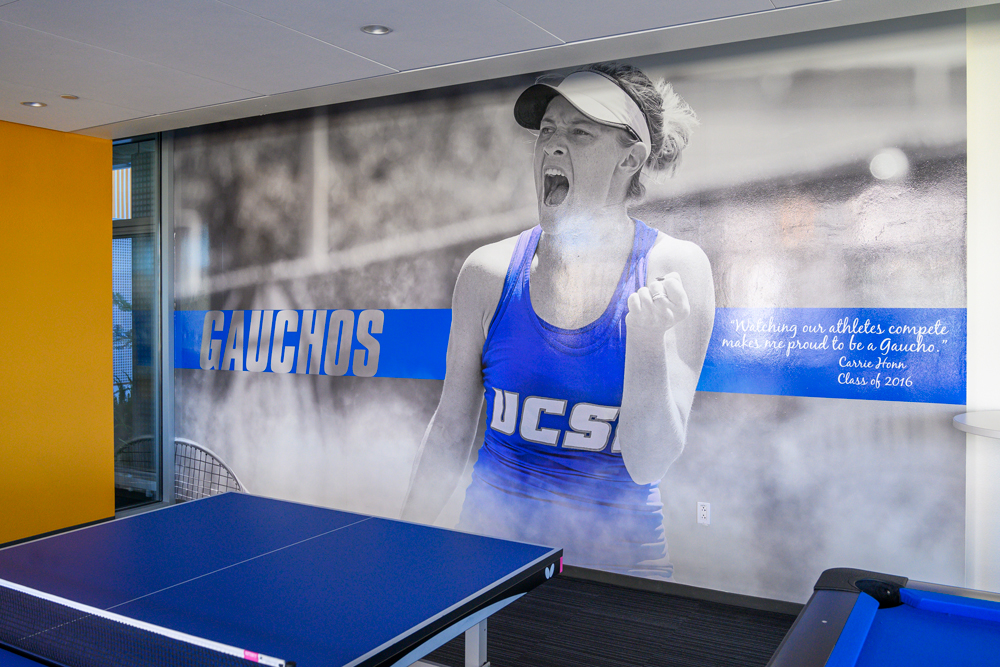 San Joaquin Villages Recreation Rooms
As part of the San Joaquin Villages Study Room project, three Recreation Rooms were designed in a Gaucho Sports theme. The Gaucho Athletic Design group suggested large photographic wallpaper and glass photo standoffs. Dynamic, bold, and oversized… they really hit the mark when students are playing pool, air hockey, or table tennis.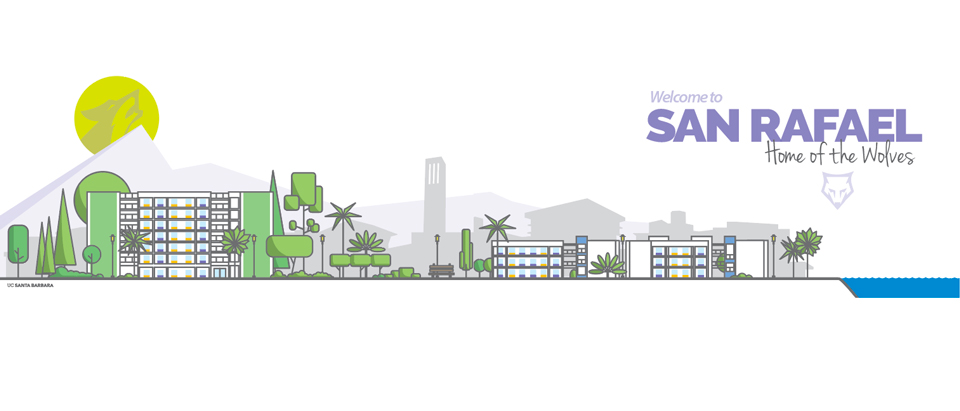 San Rafael Residence Hall Mural
This project began as a request from Brandon Landford and Kaity Roos (Residential Life) to 'cheer up' the lobby and elevator area. San Rafael is one of the older residence halls at UCSB and the hallways are filled with cloth covered walls and heavy wood paneling. Our previous graphic artist and webmaster, Eric Zobel, worked with live-in lead staff, Resident Assistants, and Front Desk staff to elicit suggestions for potential design ideas. After much discussion the overall consensus was to incorporate the hall mascot (a wolf) with the residence hall color (purple) into the overall piece. Eric took it from there and decided on a fresh and modern look with 2D-like graphics of the buildings (tower and adjacent clusters), as well as incorporating our oceanside setting and a "Welcome". The design is one cohesive piece but occupies two separate wall sections near the first floor elevators.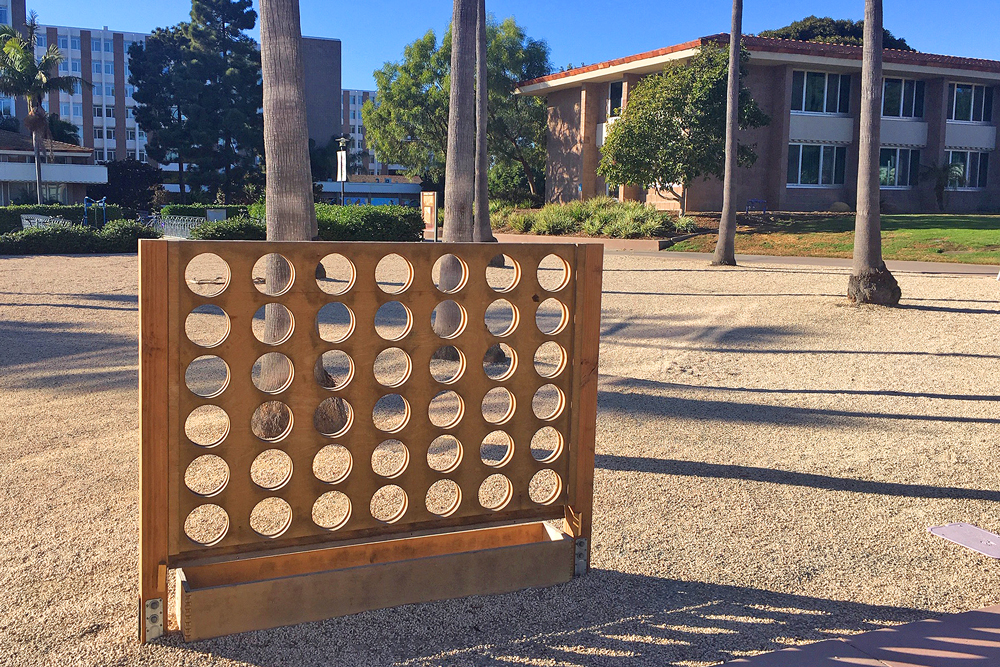 De la Guerra Outdoor Games
Former Resident Assistant and Residence Halls Association member, Addison Luria-Roberson, submitted several large-scale game suggestions to the A&C Committee for installation in front of De La Guerra Dining Commons. The committee eventually decided on a large Connect Four and a Bean Toss Game; and is researching ways to build a large chess/checker set. Julie Levangie of the Committee researched and purchased the Connect Four game with customized blue and gold disks.
*see Addison's other suggestion for the Anacapa Succulent Garden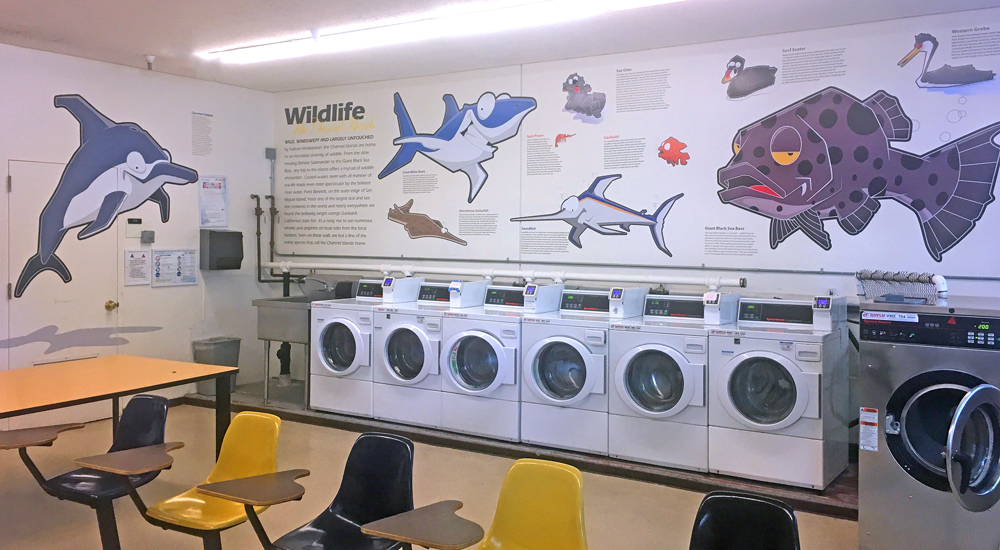 Carrillo Laundry Room Mural
The Carrillo Mural is an homage to the California Channel Islands and its wildlife. Located off the central coast, many of the UCSB residence halls are named after the local islands. With an award-winning Marine Science program and a National Oceanic and Atmospheric Administration (NOAA) office right on campus, it is fitting to have an educational mural about some of the wildlife that live on and around this magical resource. The mural is located in the laundry room on the north side of the Carrillo Dining Commons across the parking lot from San Rafael Residence Hall. It was compiled and illustrated by Eric Zobel.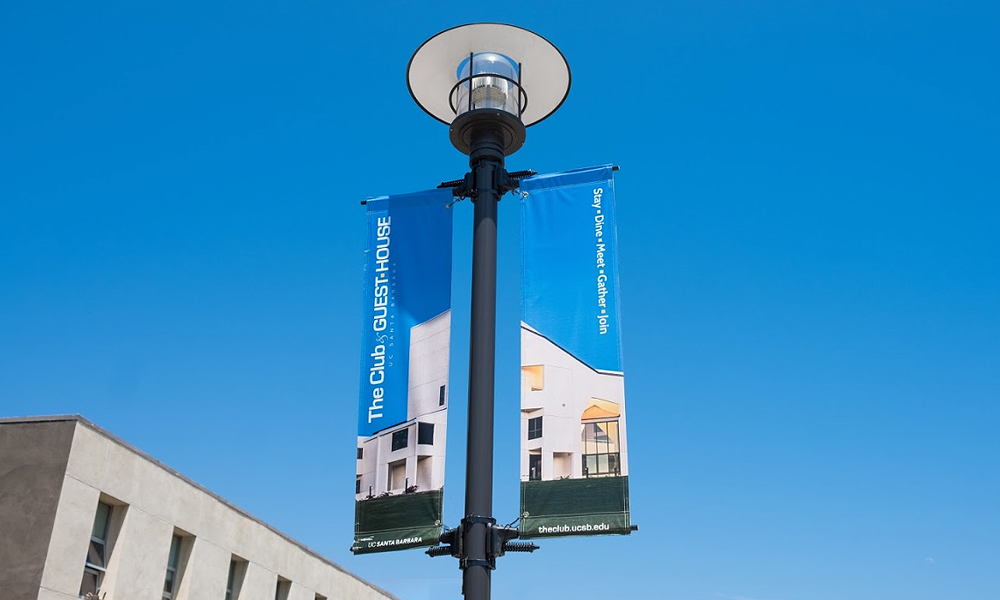 The Club & Guest House Banners
Sara Engebrits of The Club & Guest House requested exterior banners promoting The Club's services — STAY, DINE, JOIN, VISIT, MEET, GATHER — to be installed along the lagoon walkway and nearby access road. Other banners include a nod to The Club's history: "architectural icon" and "50 years and counting." Sara worked closely with previous MarCom designer, Mandy Yoshida, to bring this project to life with colorful and well-designed banners.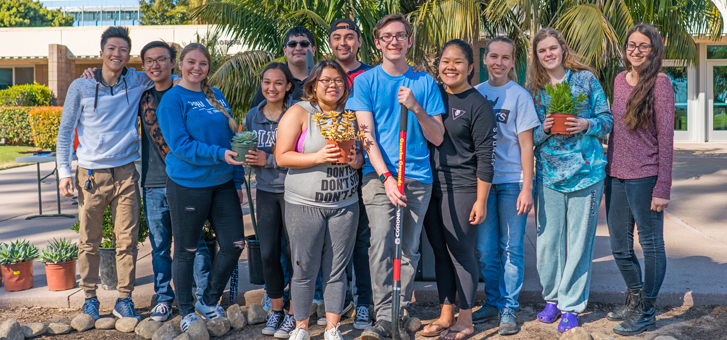 Anacapa Residence Hall Succulent Garden
The succulent garden was the brainchild of former Residence Halls Association Programming VP Addison Luria-Roberson. It started as an idea for a simple planter box in the Manzanita Village area and grew into a beautiful succulent garden at Anacapa when Addison became a Resident Assistant there. Eric Zobel helped facilitate the project but completion wouldn't have been possible without the guidance of Grounds Superintendent Manuel Herrera. He and his team prepared the area, and Addison and a team of 24 students planted the succulents. Funding for the plants was provided by the Residence Halls Association and the Anacapa Hall Council. The successful completion of this beautiful garden is a great example of tenacity, flexibility, and collaboration.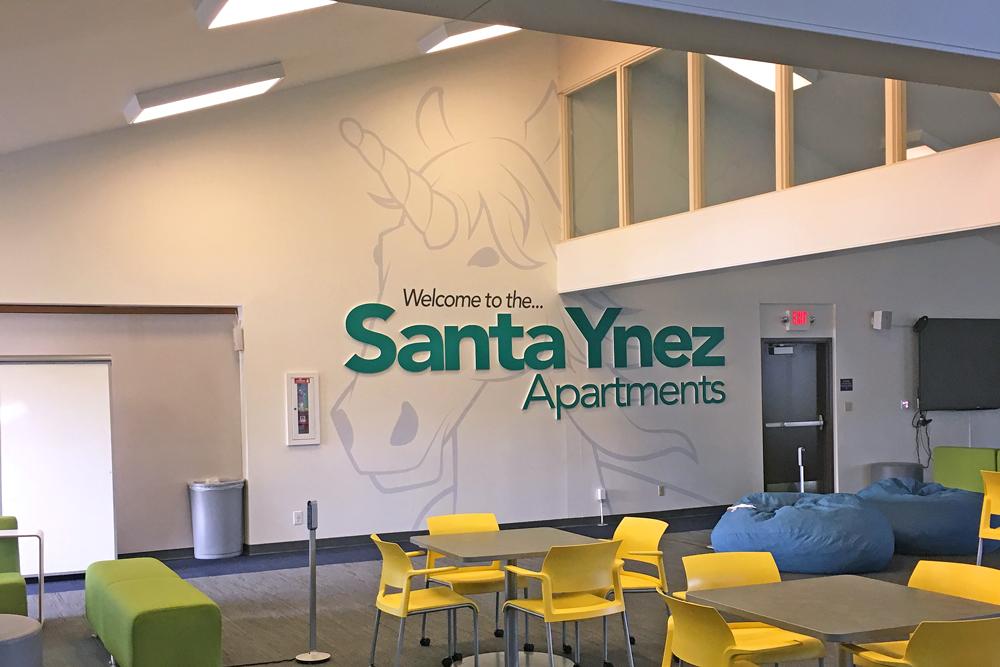 Jameson Center Graphics & Photography
Following a remodel of the Jameson Center, former Complex Coordinator Latrece Seneca asked the A&C Committee if wall graphics or wall coverings could be incorporated to complete the new look. With funding from the A&C budget and the motivation of Stephen Rivard (former Complex Coordinator) Latrece's request was realized. Stephen was instrumental in relocating vending machines and old bulletin boards. He also worked with Eric Zobel to come up with a plan to add text and the Santa Ynez unicorn mascot to the back wall. Large dynamic and colorful photos by Assistant Resident Director Anthony Bolden complete the space and add a warm feel to the remodel.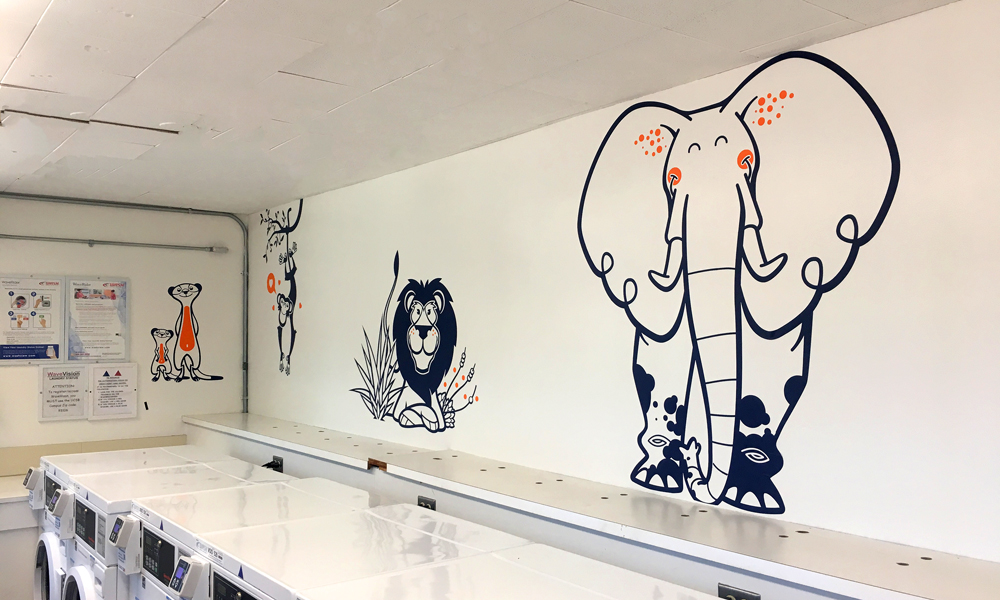 Family Student Housing Laundry Rooms
Scott Gove, former Complex Coordinator, was instrumental in several projects that have brought new life to Family Student Housing. On this project he teamed with former UCSB Graphic Artist Eric Zobel to clean up and brighten the laundry rooms. With the help of Ishmael Carranza, Residential Operations Superintendent, they repainted and applied kid friendly graphics to three different laundry rooms at West Campus and Storke Apartments. Lions, tigers, (no bears), dinosaurs and a lot of undersea creatures have found new homes amidst the washers, soap, and dryer lint. Now, kids in the community can pretend they're on safari while their Gaucho parents are doing laundry!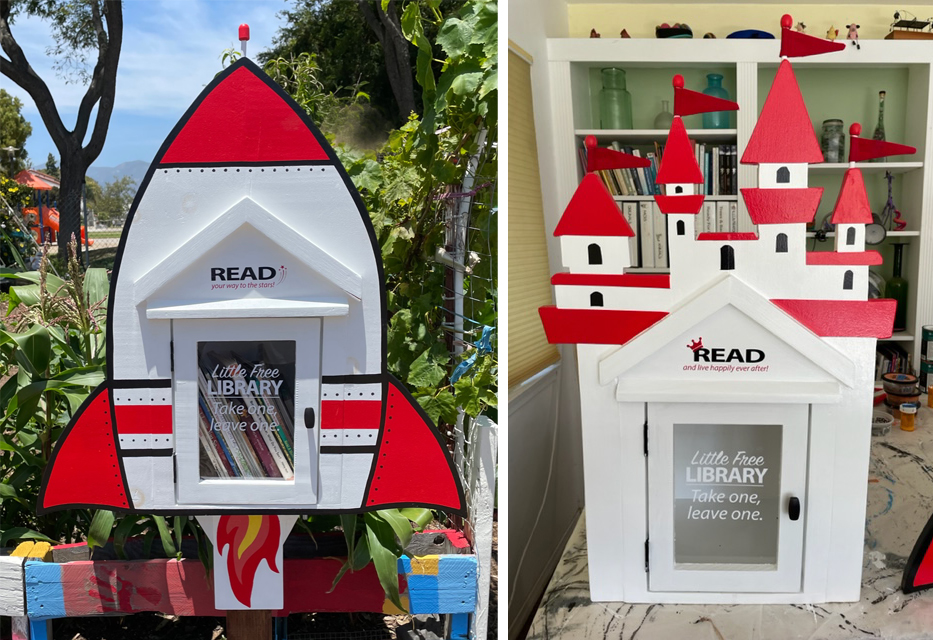 Family Student Housing Tiny Libraries
With a suggestion from Karla Burris and help from Manuel Herrera and his Grounds Crew, former Graphic Artist Eric Zobel designed and built two tiny libraries for West Campus and Storke Family Student Housing. They were installed in each of the community gardens with one in the shape of a rocketship and the other a medieval castle. These were a gift from the Arts & Culture Committee to the many children in the area and were installed at a lower height for easier access. Special thanks to Noreen Balos and Rebecca Kovacs of Residential & Community Living for filling the libraries with picture books!